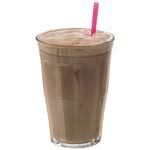 After seeing Crystal's recipe for her chocolate peanut butter banana smoothie that she is drinking after her P90X workout I was inspired to try out her recipe with a few changes. It was so good that my husband asked if we could have it for breakfast every morning. I was a bit unsure if I would like banana and chocolate together, but I was pleasantly surprised.



Chocolate Peanut Butter Banana Protein Shake



1 cup chocolate almond milk
1 frozen banana
1/4 cup organic vanilla yogurt
1 tablespoon ground flaxseed
1 tablespoon natural peanut butter
A couple of ice cubes

Place everything in a blender and blend until smooth. This makes a yummy, healthy breakfast. Thanks Crystal!