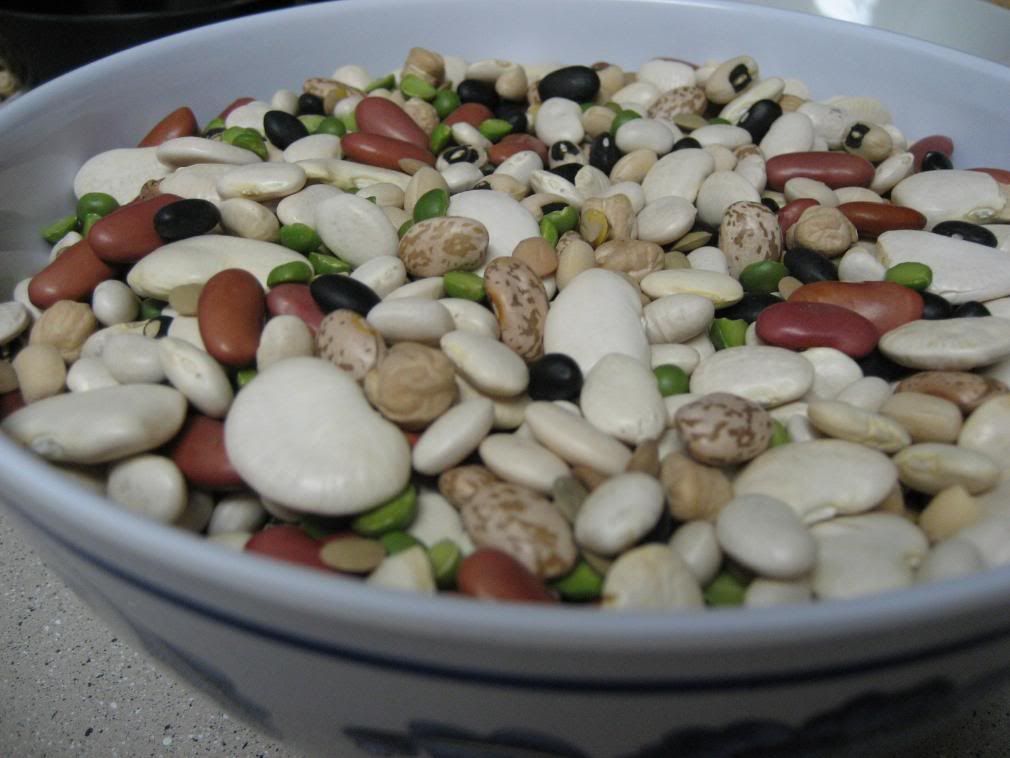 Photo Courtesy of Photobucket

After buying a lot of bulk beans and rice last week I decided I needed to look for some inventive ways to use them so we do not get bored with just beans and rice. I have obviously not had a chance to try all of these, but I have made a few. All of which were quite good.

I tried to look for recipes that did not include meat to make these more frugal, but there may be some that do have it in the ingredient list. Of course you can always adapt the recipe to your taste and budget.

I also tried to find recipes that did not require strange or expensive ingredients, but were still varied and interesting, including two desserts. (Check out the recipe for chocolate hummus at the bottom.)

Italian and Mediterranean
Minestrone
Pasta e Fagioli
Italian Black Beans and Rice
Hummus and Veggie With Pita
Falafel
Indian
Curried Lentils and Rice
Chola
(Channa Masala)
Butter Chickpea Curry
Lentil Curry Dip
Lentil Curry Snack
Dhall
Southwest
3 Bean Chili
Taco Salad
Rice and Bean Burritos
Taco Soup
Taco Pizza
Mexican Lasagna
Spanish Rice
With
Bean Dip
Bean Quesadillas
Layered Bean Enchilada Casserole
7 Layer Tortilla Pie
Pintos With Mexican Spices and V8
Arroz con Leche
(Mexican Rice Pudding)
Southern
Red Beans and Rice

Soups and Salads
Chickpea Soup
Chickpea Pasta
Lentil Soup
Split Pea Soup
Black Bean Soup
Tuscan White Bean Soup
Lentil Curry Soup
Moros y Christianos
Chickpea Salad
Pasta Bean and Veggie Salad
Indian (American)
Indian Fry Bread
(Tacos)
Asian
Pho
Chinese Fried Rice
Caribbean
Caribbean Rice and Beans
Misc.
Lentil and Rice Casserole
(Easy, cheap, and YUMMY!)
Lentil Soup With Mashed Potatoes
(Think shepherd's pie)
Black Beans and Rice Burgers
Bean Chili Over Baked Potatoes (Just like it says. Leftovers over baked potato)
Caramelized Onions and Beans
Lentils In Butter With Veggies and Cornbread
Sauteed Crispy Chickpeas
Savory Lentils and Rice
Chickpeas With Sweet Potato ans Summer Veggies
3 Bean Casserole
Black Bean Tortilla Bake
Chocolate Hummus
(I think this sounds interesting)
OK, after putting this together I am hungry!